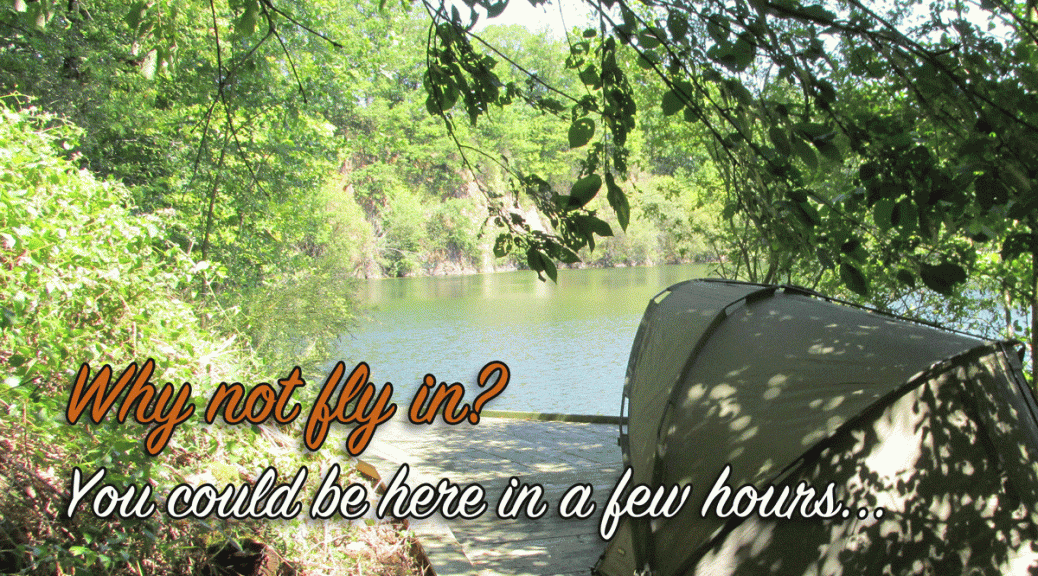 Fishing Holiday Fly & Hire Package
Fishing Holiday Fly & Hire Package
As an alternative to a fishing holiday driving from the U.K., why not FLY & HIRE? Fly in, hire a car at the airport, and then take advantage of our fishing tackle hire package?

There are 5 airports within 2.5 hours drive of Quarry Bank Carp Pool – Limoges, Nantes, Poitiers, La Rochelle and Bordeaux. Ryanair, among others, offer some really cheap flights and a car can be hired to be awaiting you at the airport. (A small budget car will be enough as you will be carrying minimal luggage anyway). You will find this should work out considerably cheaper than booking a ferry or the tunnel and then paying the fuel and tolls, not to mention the wear and tear on your vehicle.
Any shopping you require can be collected from a local supermarket on your way to our French fishing lake and you are welcome to take advantage of our fully kitted kitchen with utensils, stove, microwave, fridge, freezer and barbeque. Quarry Bank Carp Pool is so secure, you are safe to leave your gear for a mid-week run to the shops, restaurants, or whatever you fancy.
Quarry Bank Carp Pool Tackle Hire Package
Our tackle hire package includes:
3 x Free Spirit CTX 3.25 lb rods
1 x Fox Flotation weigh sling
1 x Weighing tripod and scales
1 x Rod pod complete with bars and hangers
1 x 42″landing net
1 x Carp cradle 1 x Bivvy
1 x Bed chair
1 x Low chair
1 x Gas stove, kettle, cup, water bottle (extra gas available to purchase)
1 x Carp medical care kit
Fishing Tackle Hire Cost:
The cost to hire all of the above is just £60 per week, per person along with a deposit of £60 per week, per person. The deposit is fully refundable upon the equipment being returned undamaged at the end of your stay.
We have specimen roach, rudd and perch in Quarry Bank too. Float rod hire plus terminal tackle is available for a further £10 per week.
Want to book your Fly-Hire fishing holiday? Check out the lake availability…
Bait
Particles and pellets can be purchased on-site but will need ordering prior to your arrival. Please order your bait here.
We ask you to bring your own:
Reels
Bite Alarms
Terminal Tackle
Head Torch
Sleeping Bag
...just jump on a plane and you can be carp fishing in just a few hours.