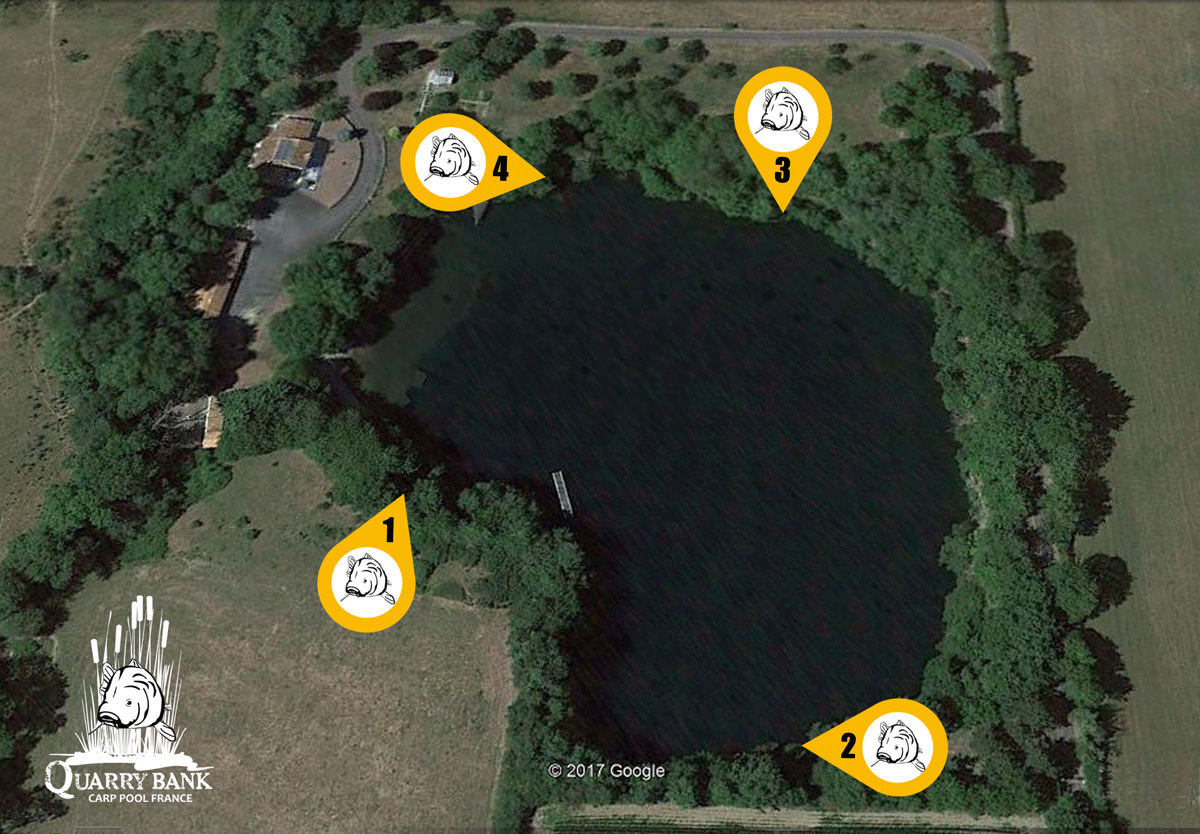 All carp fishing swims are wooden platforms, complete with twin skin bivvies, carp cradle, flotation sling, landing net and weigh tripod.  Rod pods or stage stands are not supplied and will be required.  Free WiFi is available on all swims subject to weather conditions.
CARP FISHING SWIM 1 : BEACH

Large wooden platform, double bivvy set in the trees.
Bordering the shallow to the left, small bay to the right, open water in front.
11m average depth, close margin shelves 3 – 4m.
Fish patrol in front of the platform
Single swim
CARP FISHING SWIM 2: STEPS

Large wooden floating platform with 2 single bivvies located at the far end of the lake, infront of tree-lined rock face.  Accessed by stairs set into the rocks.
Mostly open water to 11m with various shelves to be found to the left and right of the swim.
Area frequented by fish on top in hot weather
Very peaceful swim. Great view of the entire lake
Portable toilet avilable on the bank above
Mountain bike available to enable you to get to showers etc.
Double swim if required
Please note – this swim is not practical for those with limited mobility.

CARP FISHING SWIM 3: LITTLE HOLE
Large wooden platform with 1 double bivvy.  Set back in the trees, this swim is very secluded.
Various depths and features including a plateau 5-7m, open water to 11m and beyond, a deep margin channel to 13m up to 6m
Single swim
CARP FISHING SWIM 4: TRAPPERS
2 large wooden platforms with 2 single bivvies surrounded by trees on three sides.
There are shallows to the right, a large plateau 3m to 7m that runs across the swim, open water beyond 11m, a deep margin channel 13m and margin shelves 3 to 4m.
Great patrolling fish
Single swim