Our location
Our location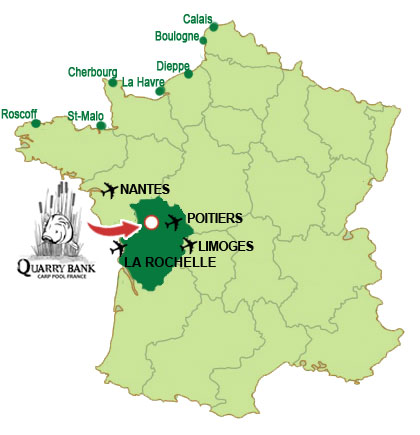 Quarry Bank Carp Pool is located in the small village of Adilly, 10 minutes from the large historic town of Parthenay.  With large supermarkets, shops, bars, restaurants, McDonalds and free parking, it's a great town to walk around and enjoy the sights.
If you're enjoying the drive on quieter French roads, driving times from the ferry ports are as follows:
St.Malo: 3hr40
Caen: 3h30
Le Havre: 4hr50
Dieppe: 4hr30
Cherbourg: 4h40
Adilly is within easy access of the faster roads and motorways (A10, N10, A11, A28, A85,) and we have 4 airports available to us:
Poitiers: 1 hour drive
La Rochelle: 1.5 hours drive
Nantes: 2 hours drive
Limoges: 3 hours drive
If you're wanting to explore the area away from the carp fishing lake, there's plenty to see and do….